Healing Peer-Support On The Farm
by Liz Pleasant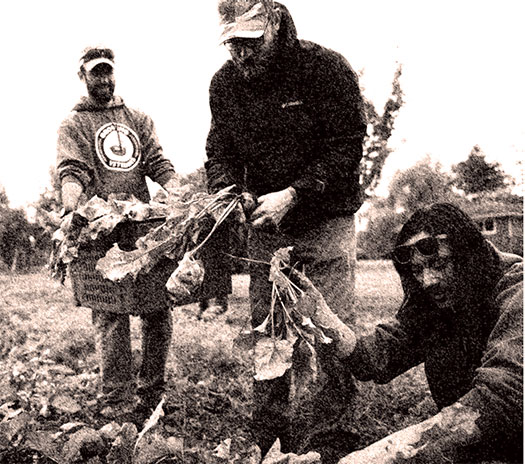 Dirt Therapy on a Farm in Skagit County: Photo By Clay Lomneth/The American Legion
"I've known a lot of people who have been to combat and came back quite changed," explained Kenny Holzemer, a 22-year retried navy air crew- man and the executive direc- tor for of Growing Veterans.

Growing Veterans is a Wash- ington-based organization that aims to help veterans successfully transition into ci- vilian life through sustainable organic farming. Launched in 2012, co-founders Marine Corps veteran, Chris Brown, and mental health counselor, Christina Wolf, recognized that farming can be both a therapeutic activity for return- ing veterans and a way to ex- plore a potential new career path.

"It's a really great opportunity to bring the healing powers of nature to people," explained Wolf. "And the healing pow- ers of having a community of people who you can rely on."
The Program

Holzemer met Brown when they were both studying on the GI bill at Western Washington University. And after getting his MBA, Holzemer reached out to become a Growing Veterans volunteer.
Except for growing up on a farm as a child, agriculture wasn't a big part of Holzemer's life. But he was interested in helping veterans and recognized the benefits of "dirt therapy." So when Brown stepped down from his job at Growing Veterans to become a mental health counselor at the VA hospital, Holzemer came on as the executive director.
Today, most of Holzemer's job is writing grants and fundraising. He also works on building awareness of the program through speeches and interviews. But every once in a while, he gets to sneak outside and work in the dirt with the other veterans.
"My favorite part is hearing from someone about how good the experience has been for them," he said. "Three people have said that this has saved their lives, not figuratively, but literally saved their lives."
Recent studies have looked at the mental health benefits of gardening. But Wolf says she doesn't need any scientific research to know farming can be therapeutic. "Those of us who do it just know instinctively that it helps us feel better. Researchers are like, 'How can we study it and prove it?' But it's just something so innate to people. We just get it."
The organization has also developed its own three-day peer-support training for staff members, volunteers, and anyone else interested in taking the course.
"As we were working with a lot of veterans on our farms, we found that a lot of people wanted to be kind of a support system for others, but they didn't feel like they had the skills to do that," explained Wolf. In addition to the veterans who enter the program as farmers and volunteers, veterans make up eighty percent of the organization's staff.
"Our training is really on both sides. How to be a helper to someone else, and how to get help for yourself when you need it," Wolf explained. "We just see that as a normal human experience. It's not a bad thing for me to support you—it's just a human thing. We all need that sometimes."
The Impact
Beyond helping veterans, the organization helps address another national issue: disappearing farmland. Today, the average age of the American farmer is 58 years old. Couple that with the fact that fewer and fewer young people are entering the profession, many are worried that small-scale family farming could soon die out.
"If food were to become one of the most important parts of our life as a culture again, we'd see a lot more people prioritizing their lives to become farmers," Brown said. "Our culture needs to put farmers in the spotlight as heroes."
Interested in buying Growing Veterans produce? Find them at the Marysville farmers market. You can also purchase their produce and products through pugetsoundfoodhub.com and barn2door.com.